House II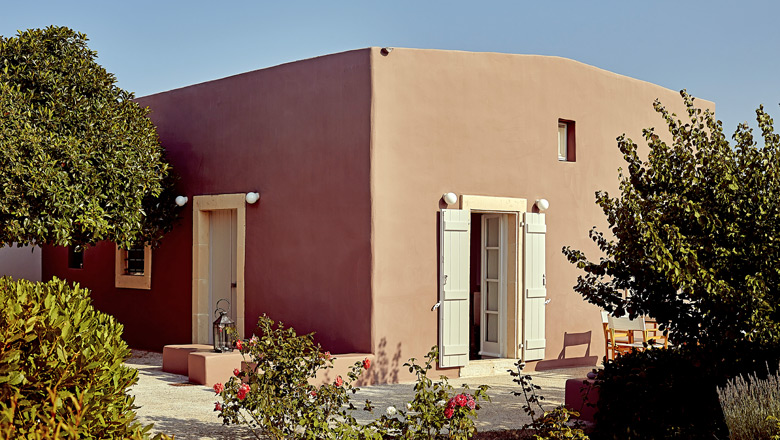 (80 sq.m. 2-4 people)
Bedroom with ceiling fan, shower bathroom, open plan living room/kitchen with a fireplace, two built-in single beds in the living room area, two verandas (east and west) complete with garden furniture.
---
---
Facilities & Amenities

Functionality, comfort and style are ensured by the quality of the modern, brand name appliances and technology:
SIMMONS FASCINATION mattresses
CARTECO linens and towels
ΚORRES natural bodywash and shampoos
Fully equipped kitchen
Refrigerator
Electric stove and ceramic range oven
Coffee pot for filtered coffee
NESPRESSO coffee machine
Electric kettle
Internet
LCD TV
DVD player
ΝΟVA (Cable TV)
Music CDs
Hair dryer
Iron
Ironing board
Laundry rack
Screened windows
Radiators
Fireplace
"Fat-Fat table by B&B IΤΑLIA" living room table
Light fixtures by Moooi
Kitchen tables one bistrot and string chairs by MAGIS
FLOS bathroom and bedside lighting
Black Jumbo Bean Bag
FERMOB outdoor dining tables
Services included in the price
Welcome basket with traditional rusks, special honey from Kithira and bottled water
Tea, ground filter coffee, instant coffee and espresso is offered daily (one serving per person)
Daily housekeeping
Change of sheets every 3 days
Korres natural bodywash and shampoos
Staff fluent in Greek, English and Italian
Cell phone contact available 24 hrs/day
Services provided at an additional cost
Car rental
Super market and bakery shopping
Kitchen cleaning service (washing and putting away of dishes, cookware etc.)
Party planning, supplies for barbeque in the garden, cooking – homemade food in your residence etc.

---
Plan