Island Guide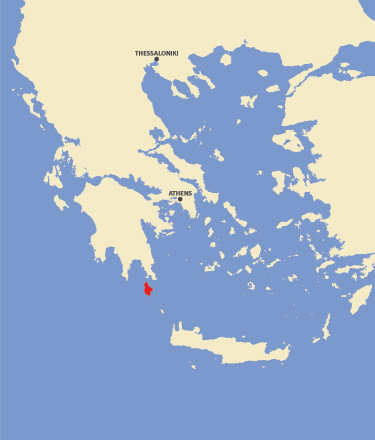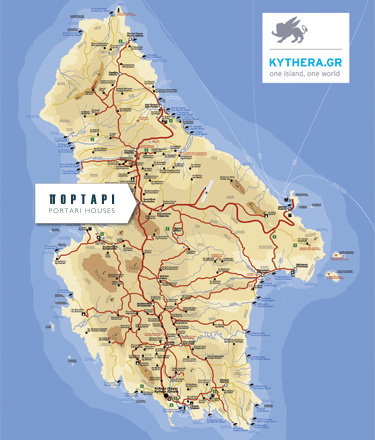 The island of Kithira (284 sq.km.) is located south of the Peloponnese, between three seas, the Ionian sea, the Cretan sea and the Aegean sea, and belongs to the Ionian Islands complex. Kithira is 120 nautical miles from the port of Piraeus and belongs to the same prefecture. There are about 64 settlements and villages on the island and roughly 3500 permanent residents.

Access
By plane, daily from Athens during the summer, less frequently from Thessaloniki.
By boat from Neapoli, Gytheio, Kalamata, Kissamo in Chania Crete, Rethymno Crete and Piraeus.

For more information visit www.kythera.gr/en/gettinghere/routes.php

Download map (pdf file, 2.5MB)
---

---
Food – Beaches – Sights - Entertainment
Food
Michalis in Mitata
Lemonokipos in Karavas
Panaretos in Potamos
Famiglia in Fratsia
Platanos in Milopotamos
Kaleris in Agia Pelagia
Sotiris in Avlemonas
Skandeia in Palaiopoli
Creperie Bon - Bon  in Chora
Magos in Kapsali
Beaches
You can choose one of the eastern beaches (Palaiopoli, Kaladi, Fyri Ammos) or one of the beaches on the south or west (Melidoni, Diakofti, Halkos), depending on the winds.
Traditional products - open air markets
Don't forget to pick up some of the famous Kithiran rusks, fatourada (traditional liqueur),  cheese from the Mitata village, some exquisite thyme honey and the sempreviva (always alive) wildflowers, which can only be found in Kithira. Visit the open market every Sunday morning in the Potamos village square. Potamos and Livadi make up the area's center of commerce and are the largest villages on the island.
Entertainment
Merkato, music bar, Chora
Zeidoros centre for the Arts and Education, Kapsali
Outdoor concerts and bars in the picturesque port of Avlemona
Sights
The castle located in the island's main village, Chora
The small island of Hytra opposite Chora. Boats depart regularly
The waterfalls and cave of Ag. Sofia in Mylopotamos
The stone bridge in the village of Kato Livadi
Paliochora – an ancient settlement
The traditional village of Aroniadika
The monastery of Panagia Myrtidiotissa
Antikithira

The above mentioned information concerning food, beaches, sights and entertainment represents indicative suggestions. For additional information please visit the following websites:
www.kythira.gr | Municipality of Kythira
www.kythiraweb.com | Professionals' Union of Kythira
Suggested books – guides - publications about Kithira
A Short History of Kithira, and KITHIRA, a historic and tourist Guide by Emmanouil Kalligeros, Kithiran Publisher, Athens.
Walking on Kithira by Frank Van Weerde, 2005.